Data collection
Data collection for production optimization
Measure the pulse of the production and optimize it with a Kjærgaard PerformanceTracker
Manufacturers of all types and sizes can optimize production on several parameters and reduce the cost of utilizing existing equipment in the most efficient way. This is done by collecting the plant's data and analyzing these. The data form the basis for understanding the causes of inefficiency, waste and lost capacity. With this insight into production, one can refine and prioritize measures for process optimization.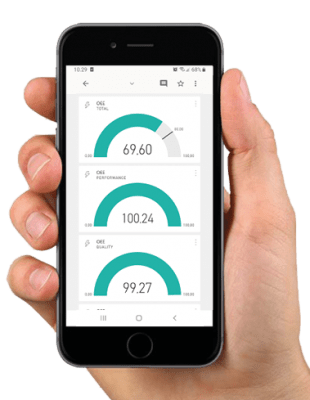 Easy implementation in production PLCs
Kjærgaard has developed a PerformanceTracker that is implemented in the production's PLCs and thus uses input from existing sensors. The PerformanceTracker calculates and manages the equipment's data and forwards it to a server or cloud. No additional equipment or data boxes need to be connected to perform data collection.
Live or historical data can be visualized on all platforms
After the PerformanceTracker has calculated the data, it must be visualized. Microsoft Power BI is a well-known tool and allows the user to design their own dashboard. In addition, Power BI can also generate simple reports that can be pushed to an email.
Power BI can display both live and historical data and it is installed via an app for tablets and smartphones, so they can be easily accessed from anywhere.
For more information