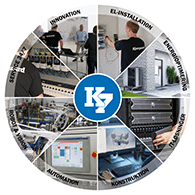 Gå til forsiden
Job opportunities
To look for a position, you have to upload your application and CV through the link below.
SEARCH JOB ON YOUR OWN
You are always welcomed to search voluntarily, if we do not have an available job that matches your wishes at the moment, then we will contact you if we can use your qualifications.
At Kjærgaard our competent employees are our biggest asset. This is something we are very much aware of and therefore we always strive to make our company an attractive and pleasant workplace that is both professional and social.
Today we employ a wide range of technicians and engineers that are very best in their respective fields. Therefore, as an employee in Kjærgaard, you will always feel closely linked with a solid professional environment where access to knowledge, exciting tasks and personal development is right in front of you.
We make a great effort to ensure that we can not only work together, but also together experience more and socialize in an informal and relaxed environment through an active staff club and a series of traditional events over the year.
Today we are approximately 170 employees – and we are constantly growing.