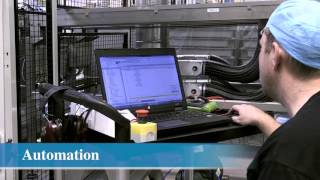 PLC/SCADA
Our experienced and well-educated programmers work on carefully designed structures, which means that all our programmers can easily edit and service all PLC solutions that have been and will be delivered by Kjærgaard in the future. Our high level of standardization means that we develop faster and more error-free and that we can service the installations faster and more efficiently.
We program PLC solutions based on the market's recognized platforms – with primary emphasis on Siemens and Rockwell Automation, which constantly keeps us up to date with the latest technologies and work routines.
Just as we have introduced standards for building all our software solutions – from vision software to the assembly of complex PLC programs – we also provide a standard user interface based on SCADA. We are basing our intuitive interface on the SCADA solution RSView which is a component-based system. This gives us the possibility to integrate a wide range of solutions into one user interface and thereby ease the everyday life for the users of our solutions.
Furthermore, RSView enables seamless integration with all other Rockwell software solutions as well as Microsoft and other third-party products.
For more information