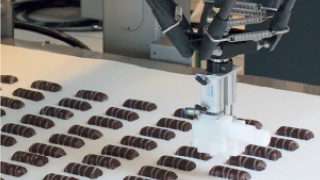 ROB-FLEX – pick'n'place
Rob-Flex – Quick pick'n'place
We have developed a robotic module Rob-Flex that is a complete cell built around a high-speed delta parallel robot.
Rob-Flex is built in a solid chassis made of painted steel or stainless steel and is thus suitable for all types of industries – including food and pharmaceutical industries. The system can be easily integrated across the conveyor belt from which the robot must collect items. The solution is made for tasks where light subjects must be moved in a fast pace – e.g. in connection with packing and sorting. An integrated vacuum extraction and a release system ensures that the robot can handle pick'n'place routines with up to 80 picks per minute.
The control of Rob-Flex is based on a standard motion controller. Kjærgaard delivers a user-friendly operator interface that makes it easy to operate the robot on a daily basis. Rob-Flex can be integrated to RobOptic – our system for guidance of the robot. Sanitary version of Rob-Flex can also be supplied, that is, a two-axis robot made in a stainless steel construction.
For more information