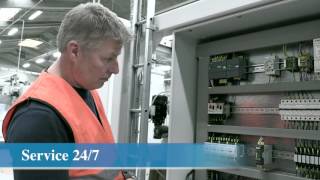 SERVICE 24/7
We provide services to the largest industrial companies in Denmark, and all employees in Kjærgaard are fully aware of our role in keeping the production processes running for our customers, so that our resources/services are available 24-7 all year around.
Having over 160 employees across 5 departments in Denmark and 80 service cars on the road every single day, we are able to cover the whole country within about an hour.
Our competent service organization provides services and support for everything from stamping presses, packing machines, machining cells, robots, conveyor belts, electric motors, electric boards, building installations, etc. All in all, we can help with all types of power-driven processes, machines and equipment.
Here at Kjærgaard we always put our customer needs first, which also applies to the service agreements that can be compiled according to customer's wishes and needs.
Our competencies:
Industrial service
Maintenance of Electro-motors
Service agreements
Maintenance agreements
Thermography of electric boards
Call responses/call, phone service
Permanent service team in your production
OEE measurements and reporting
For more information