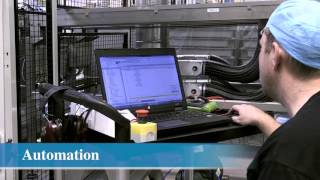 SERVO
We integrate both frequency converters and servo drives in many automation solutions where demands are made for precision or flexible speeds. Kjærgaard's drive-technicians have expertise in various brands however, AB drives from Rockwell Automation or solutions from ControlTechniques are offered as a starting point.
We develop controls for servo and frequency converters in connection with eg. machine tools, fans, pumps, conveyor belts and material handling systems.
In addition, we can provide strong solutions for handling endless tracks and other applications that require high precision.
There are many different communication possibilities for all the products. As a starting point, most solutions can communicate directly via DeviceNet Ethernet / IP and Profibus. Larger frequency inverters can also communicate via ControlNet, RS485 Df1, Interbus, CANopen, LonWorks, HVAC and others.
For more information