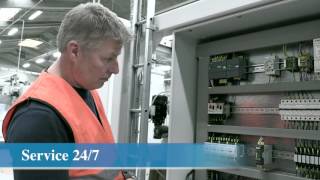 STRATEGIC MAINTENANCE
We offer entering into a service agreement so that you have access to our staff of competent and experienced employees.
Our service organization is equipped to provide service and support on everything from stamping presses, packing machines, machining cells, robots, conveyor belts, electric motors, switchboards, building installations, etc.
We create a service agreement that matches closely to your company, and we gladly take full responsibility for electricity service in your production. Based on the agreement, we organize service visits and prepare a plan for preventive maintenance, so that the production manager and the factory manager do not have to worry about the maintenance plans, etc.. We take care of everything and document all of it down to the every detail.
You can also choose a solution where we put one or a whole team of service technicians at your disposal. This means that our employees are permanently in your production and act as your company's electricity department.
Every day we carry out regular service for a large number of industrial customers and have experience with nearly all industries – also in clean rooms, that require special certificates.
For more information