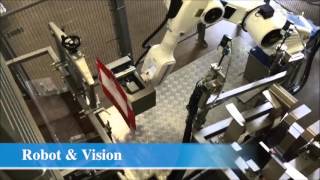 VISION SYSTEMS
At Kjærgaard we integrate and develop systems for visual in-line inspection and quality control. Our solutions are based on intelligent vision sensors from Cognex – the world's largest and leading supplier of vision systems, also Kjærgaard's close business partner since 1996.
There are two major reasons for using vision systems. Firstly, most types of inspection and monitoring can be done more efficiently and uniformly by machine use rather than manually. Secondly, the vision system sets human resources free for more profitable tasks.
Times when traditional PC solutions that are developed from scratch and tailored to the individual customer are gone. Nowadays the industry is demanding standard solutions and that is exactly what Kjærgaard can offer with the intelligent vision sensors from Cognex.
For more information